Back Home
Back-to-School Organization
With August 1st comes the realization that Back-to-School time is already here.  It just doesn't seem possible that summer is coming to an end and school will be starting soon!  Whether your kids attend traditional schools, homeschool, or college, there is always a sense of excitement for what the "new year" is bringing.
Over the last 21+ years of having kids in all stages of schooling, I have come to realize that this time of year is when I also renew my pledge to be more organized and survive the crazy school schedule, sports, and extracurricular activities that all kick-off in the Fall.
Your home can be organized for back-to-school for little-to-no extra money.
Kitchen
The kitchen is typically known as "the Heart of the Home" and my experience has been that if my kitchen is clean and organized, the rest of our home life tends to be more organized, too.
One of my most dreaded tasks when the kids were younger was packing school lunches. All the time and effort put into packing them a healthy and fun lunch was thrown out the door (a.k.a., into the garbage) when they came home with the majority of their lunch uneaten. There were a myriad of excuses as to why, but I really didn't care because all I could think about was how long it took to pack four lunches that eventually ended up in the garbage! It was then that we changed our system. Each child was responsible for packing their own lunch with the items that I provided.  My only rule was that the lunch had to be packed the night before. An unexpected and pleasant by-product of this process was that they ate their lunch! This concept can be taken a step further by organizing the fridge with 3 bins:  fruit, vegetable, and snacks.  The child chooses one item from each bin to make their lunch and, as the parent, you have a visual reminder of what needs purchased on your next grocery run.
Family Bulletin Board and Calendar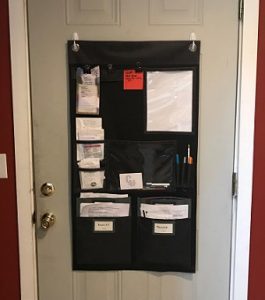 Another great addition for the kitchen is a Family Bulletin Board/Calendar area. I purchased an organizer for the back of the kitchen door that has various pockets, clips, and a write on/wipe-off surface.  Several options are available for purchase. The hanging organizer is the last thing seen when we leave the house in the morning so any "Don't Forget!" notes are in full view before leaving. I used one large pocket on the bottom for each kid. As kids have left the nest, I have repurposed the pockets for grocery ads and staging incoming mail.
I have been using a Family Calendar for at least 20 years–and it is hanging just to the right of this organizer! The calendar serves as a master schedule for our family and everyone's schedule is added to it. Assigning a different color for each family member works great, too until someone wanders off with one of the pens!  We have been using this system so long that everyone knows to look at the calendar before planning something. Choose a calendar that has large enough spaces to accommodate all family member's activities.  My favorite calendar of all time is the More Time Moms Calendar Family Organizer.  It has 2"x3" blocks, space for lists, recipes and tips, reminders to schedule home maintenance, and a POCKET! I love the pocket in the back for appointment slips, schedules, and permission slips. It also comes with stickers for designating special days such as birthdays, anniversaries, appointments, school holidays, etc. My kids loved the stickers when they were little.  And, no, I am not being paid to endorse this calendar—I just love it that much!
Dedicated Homework Area
A designated homework station is a great organizational tool. This needs to be in a well-lit area with room to spread out books, notebooks, and supplies. This will help to prevent a last-minute dash through different rooms of the house to gather items needed for school the next day. Have plenty of pens, pencils, erasers, highlighters, extra notebook paper, and a ruler handy. Use a shower caddy to store supplies or a turntable with various cups to hold supplies. A quick look through Pinterest will provide tons of options! An over-the-door shoe organizer also provides a lot of storage pockets with the items readily visible. Your storage system can also be a great place for the kids to restock their supplies as they run out at school.
Have a designated area for backpacks. Whether it is a hook, cubby, or just lined up along the wall, having a central location close to the door for this item makes it easy to grab n' go in the morning.
Back-to-School Shopping
Along with the supply lists that come from the school, there is also usually clothes shopping to replace worn out and outgrown clothing and shoes.
Before going shopping, spend some time organizing your child's closet to get a good handle on what clothing items are needed. See what clothes still fit and can be used another season.  Donate items that are too small and throw away damaged items. Do this early enough in the summer to take advantage of the Back-to-School sales that will begin in late July and early August.
Several states have tax-free shopping "holidays" for Back-to-School. Click here to see if your state participates. Each state's designated tax breaks are different so be sure to read the details. In *Ohio, it begins on Friday, August 3 at 12:00 a.m. and goes until Sunday, August 5, at 11:59 p.m. During the Ohio tax holiday, the following items are exempt from sales and use tax:
Clothing priced at $75 per item or less,
School supplies priced at $20 per item or less; and
School instructional material priced at $20 per item or less
*Source:  https://www.tax.ohio.gov/sales_and_use/SalesTaxHoliday.aspx
Take advantage of this upcoming season of change to implement a few changes that will make your school year and home life a little less stressful. Trust me, it is an AMAZING feeling when your child's teacher reaches out to you with a question because "you're one of my organized parents"!